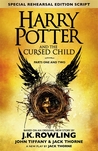 Harry Potter and the Cursed Child by J.K. Rowling, Jack Thorne, and John Tiffany
My rating: 4 of 5 stars Read on: July 31, 2016
I never pre-ordered a Harry Potter book (or any book for that matter) and I never read a Harry Potter book in it's entirety the day it came out (never even got my hands on the book the day it came out). So I suppose I got a chance to do that.
I must say, I was skeptical going into this, because Rowling's recent work hasn't drawn me in like Harry Potter has. I also was reluctant to open this up again. HP had concluded and I was happy with it. I don't really see the point of going back. But people are going to talk about this play or the script of the play (I think), and how could I not?
When I started reading, after a few minutes of being completely sucked in, I had a brief emotional moment when I realized that I am getting to read a Harry Potter book for the first time again. And just like the very first time I ever read a Harry Potter book (I do remember it very clearly), I was absorbed.
With all that out of the way, let me say this: I don't have to consider this canon, do I? There were parts I LOVED and wish I had more of. (I would legit love to read about Albus Potter at Hogwarts.) But, to be honest, this play was crafted entirely for the purpose of fan service, and it makes use of plotlines just to make that fan service possible.
It has good emotional threads. It does a good job with its characters. But the plot is, well, like a good fan-fiction maybe. Or like a movie based on a TV show that tries to fit in as many things from the show as it can and in order to do so takes some liberties with the logic and rules established previously. I think I could tell which parts were the work of the other two authors of the title.
But, that didn't really bug me. Despite the fact that I am aware of the flaws, I really appreciated the chance to experience Harry Potter for reals again. And many people from my generation will understand what I mean. I do recommend this book to all Harry Potter fans. Or if they'd rather wait to watch the play, I'd recommend that too, although I'll admit that I'm genuinely curious how they'll pull a lot of this stuff off on a stage. I would probably watch it if it became available near me.
MILD SPOILERS BELOW
Scorpius Malfoy was a bundle of joy. And I heart Scorpius and Albus. Albus was a little difficult, very reminiscent of OotP-Harry. Harry himself was not that special. Although, this play was in love with Hermione, let me tell you! It went full blown movie version super Hermione with full blown movie version jokester Ron. It was also trying to convince J. K. Rowling that Ron and Hermione belong together, so she can stop regretting that decision!